How many birds have you seen in the Hunter Region? Have you seen more than 300 birds? If so, welcome to the Hunter 300 Club! We'd love to have your tally of species posted on this page and you're now also eligible for a special badge (see below). For those who have made it to the next milestones, there's also the Hunter 350 Club and a 400 Club. Very soon there will be a 425 Club as well!
Below is a table showing the top Hunter listers' tallies. It also includes the most recently added birds to people's lists and their predictions for the next species to be added to the Hunter Region checklist – all just for fun of course. But note that if you have surpassed the esteemed 400 mark we'll need to review your list before we post it here (even though the 300 Club is purely for fun please don't be offended if a records officers seeks to verify species you may have claimed for your list).
To post your Hunter bird list tally, your next new species prediction (optional) or to enquire about the reviewing process of lists email the Club's records officers here.
Hunter Birders Totals
NAME
TOTAL
LAST UPDATED
MOST RECENT ADDITION
NEXT NEW HUNTER SPECIES PREDICTION
400 Club
Ann Lindsey
422
Mar 2019
Pied Honeyeater, Grey Currawong, Little Stint
Mangrove Honeyeater
Mick Roderick
422
Jun 2019
SIPO, South Polar Skua, Little Bittern
Westland Petrel
Michael Kearns
420
Jun 2019
SIPO, South Polar Skua, Pied Honeyeater
Herald Petrel
Allan Richardson
414
Mar 2019
Tahiti Petrel, Pied Honeyeater, Brown Booby
South Polar Skua
Dan Williams
414
Jun 2019
SIPO, Kelp Gull, South Polar Skua
Southern Royal Albatross
Steve Roderick
412
Jun 2019
SIPO, South Polar Skua, Pied Honeyeater
Grey-backed Storm-petrel
Alan Stuart
411
Jun 2019
SIPO, Pied Honeyeater, Grey Currawong
New Caledonian Storm-petrel
350 Club
Dick Jenkin
393
Mar 2019
Pectoral Sandpiper, White-tailed Tropicbird, Cook's Petrel
Stejneger's Petrel
Ian Benson
390
Jun 2019
SIPO, Australian Logrunner, Pale-yellow Robin
Australian Ringneck
Graeme O'Connor
385
Jun 2019
SIPO, Aleutian Tern, Common Gull-billed Tern
White-throated Honeyeater
Craig Anderson
384
Mar 2019
White-necked Petrel, Rose-crowned Fruit-Dove
Stilt Sandpiper
Nick Livanos
380
Mar 2019
Aleutian Tern, Crimson Chat, Common Gull-billed Tern
Grant Brosie
374
Jun 2019
SIPO, Diamond Dove, Brown Booby
White-fronted Honeyeater
Bruce Watts
374
Jun 2019
SIPO, Emerald Dove, Kelp Gull
Blue Bonnet
Jeff Jones
356
Jun 2019
SIPO, Diamond Dove, White-necked Petrel
Lorna Mee
356
Mar 2019
Collared Kingfisher
300 Club
Rob McDonell
339
Mar 2019
Black Honeyeater
Alex Berryman
337
Mar 2019
Polynesian Storm-petrel
Dave Stuart
332
Mar 2019
Powerful Owl, Diamond Dove, Little Friarbird
Black-faced Woodswallow
Greg Newling
330
Mar 2019
Forest Raven
Blue Bonnet
Tom Clarke
315
Mar 2019
Budgerigar
Mangrove Honeyeater
Trevor Williams
312
Oct 2018
Black-eared Cuckoo, Black Honeyeater, Red-backed Kingfisher
Margaret Clarke
310
Mar 2019
Krishna Nagarajan
302
Mar 2019
Brown Booby, Red-winged Parrot
Yellow-plumed Honeyeater
Others' predictions for next new species
Liam Murphy
South Polar Skua
Shaun McKay
Pied Heron
Dick Cooper
South Polar Skua
Peter Struik
Semipalmated Plover
Simon Gorta
Collared Petrel
Josh Bergmark
Magenta Petrel
How to obtain a badge? Simply let the records officers know what your total is, noting that to receive a 400 Club badge we will need to ensure your list has been vetted. Your badge will be presented to you at the next HBOC meeting or outing that you attend. You do not have to be a member of HBOC to apply for a badge. To make it easier for you to work out your total, you can download a generic checklist and personalise it; see below.
Here are our existing badges: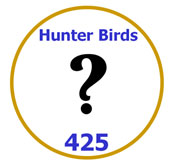 And here is our '425 Club' badge – it's a work in progress!
Hunter Region checklist (Excel spreadsheet):
As an Affiliate of BirdLife Australia, HBOC uses BirdLife's V1.2 Working List as the basis for the taxonomy of our Hunter Region checklist. This differs from the IOC checklist in use by many Australian birders (though within the Hunter the two taxonomies are almost identical). What should you count on your list? There are a few basic rules:
You must have seen the bird in the Hunter Region at least once (birds that only have been heard cannot be counted). So far, more than 450 species have been recorded in the Hunter Region.
The Hunter Region is the area defined in HBOC's Hunter Region Annual Bird Reports (see "Hunter Region").
Species not listed in the Bird Reports cannot be included, nor can species classified as Escapees.
For rare birds (those listed as Category 3 in the Bird Reports) we encourage you to ensure that the HBOC Records Appraisal Committee has accepted the record. However, that's not compulsory for receiving a 300 Club or 350 Club badge and all you have to do is submit your total to us.