Each year HBOC produces a report detailing the bird records for the Hunter Region in the preceding year. All current members of HBOC receive a free copy which is also made available to many local and some national conservation-focussed organisations. Copies (hard or soft copy) are available for purchase.
Traditionally, the Bird Reports each year have been based on records from more than 100 individuals and organisations. For the 2018 Bird Report records from more than double that number of observers were used in its production. This is the first year that Dan Williams has taken on the task of being the editor of the Bird Report, following 25 years of editing (from edition #1 in 1993) by Alan Stuart. New features such as the use of species codes, weighted reporting rates, species trend charts and inclusion of eBird records in the analyses have been incorporated into a slightly new format in 2018. Records for the Bird Reports are vetted by a Records Appraisal Committee, consisting of experts from HBOC, prior to publication.
Information in the publication will be of interest to:
Local authorities seeking to prepare State of the Environment reports
Consultants seeking information concerning rare, threatened or endangered species in the Hunter Region, or any other species of interest
Researchers in ornithology, natural history, environmental studies
Individuals or organisations with an interest in Australian birds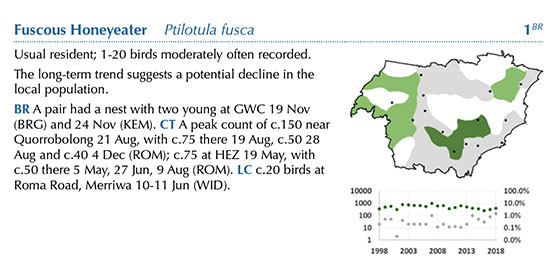 Click on image for a larger one
Brief summaries about each year's Bird Report are given below, plus downloadable copies are available for most of them. To purchase hard copies or for copies of more recent Bird Reports, contact the HBOC Secretary secretary@hboc.org.au.
2018
362 species recorded for the year, with breeding records for 154 species. Electronic copy not available for downloading – Contact Secretary secretary@hboc.org.au for purchasing details
2017
375 species recorded for the year, with breeding records for 108 species. Electronic copy: 2017 HBOC Bird Report

2016
349 species recorded for the year, with breeding records for 116 species. Electronic copy: 2016 HBOC Bird Report

2015
364 species recorded for the year, with breeding records for 133 species. Electronic copy:  2015 HBOC Bird Report

2014
368 species recorded for the year, with breeding records for 141 species. Electronic copy:  2014 HBOC Bird Report

2013
372 species recorded for the year, with breeding records for 138 species. Electronic copy: 2013 HBOC Bird Report
2012
359 species recorded for the year, with breeding records for 116species. Electronic copy: 2012 HBOC Bird Report
2011
348 species recorded for the year, with breeding records for 134 species. Electronic copy: 2011 HBOC Bird Report
2010
351 species recorded for the year, with breeding records for 148 species. Electronic copy: 2010 HBOC Bird Report
2009
350 species recorded for the year, with breeding records for 129 species. Electronic copy: 2009 HBOC Bird Report
2008
344 species recorded for the year, with breeding records for 125 species. Electronic copy: 2008 HBOC Bird Report
2007
357 species recorded for the year, with breeding records for 159 species. Electronic copy: 2007 HBOC Bird Report
2006
355 species recorded for the year, with breeding records for 161 species. Electronic copy: 2006 HBOC Bird Report
2005
330 species recorded for the year, with breeding records for 150 species. Electronic copy: 2005 HBOC Bird Report

2004
339 species recorded for the year, with breeding records for 123 species. Electronic copy: 2004 HBOC Bird Report
2003
348 species recorded for the year, with breeding records for 120 species. Electronic copy: 2003 HBOC Bird Report
2002
355 species recorded for the year, with breeding records for 99 species. Electronic copy: 2002 HBOC Bird Report

2001
339 species recorded for the year, with breeding records for 109 species. Electronic copy: 2001 HBOC Bird Report
2000
334 species recorded for the year, with breeding records for 131 species. Electronic copy: 2000 HBOC Bird Report

1999
310 species recorded for the year, with breeding records for 127 species. Electronic copy: 1999 HBOC Bird Report
1998
314 species recorded for the year, with breeding records for 138 species. Electronic copy: 1998 HBOC Bird Report
1997
312 species recorded for the year, with breeding records for 113 species. Electronic copy: 1997 HBOC Bird Report
1996
311 species recorded for the year, with breeding records for 106 species. Out of print – electronic copies available only. Electronic copy: 1996 HBOC Bird Report

1995
311 species recorded for the year, with breeding records for 109 species. Electronic copy: 1995 HBOC Bird Report
1994
306 species recorded for the year, with breeding records for 96 species. Out of print – electronic copies available only. Electronic copy: 1994 HBOC Bird Report
1993
272 species recorded for the year, with breeding records for 62 species. Out of print – electronic copies available only. Electronic copy: 1993 HBOC Bird Report