WILMA BARDEN MEMORIAL GRANT
The Hunter Bird Observers Club launched the Wilma Barden Memorial Grant in 2013 to provide support for research projects that promote the study and conservation of birds in Australia and that are of relevance to the Hunter Region.
Wilma Barden was one of the founding members of the HBOC and a dedicated environmentalist with a passion for the conservation and welfare of birds. She was a key figure in the establishment and ongoing success of the Hunter Wetlands Centre at Shortland, NSW.
The Wilma Barden Memorial Grant is now open for applications, which can be submitted at any time of the year.
Projects may include (but not be limited to):
Scientific research, student projects, on-ground bird conservation work, education programs or materials, equipment or materials purchased to support bird conservation programs or projects.
Grants of up to two thousand Australian dollars ($2000) are available for individual projects. Applicants should read the Wilma Barden Memorial Grant Principles before completing the Application Form.
Wilma Barden Memorial Grant Principles
Wilma Barden Grant – Application Form
Wilma Barden Grant Sub-committee ToR
Recipients
2015: Francoise Lermite (University of Newcastle). 
Francoise Lermite was the inaugural recipient of a Wilma Barden Memorial Grant for her PhD studies on Common Mynas. Her thesis was submitted in 2018 and an article about her research will appear in the 2018 issue of HBOC's journal The Whistler.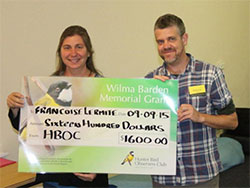 2016: Ross Crates (Australian National University).
The 2016 Wilma Barden Memorial Grant was awarded to Ross Crates from ANU. Ross is undertaking a PhD project (due to finish in late 2018) on "The ecology and conservation of the Regent Honeyeater", a species vitally connected to the Hunter Region. It is Critically Endangered nationally (and locally) and there has been a dramatic decline in numbers. There are breeding records from many Hunter Region locations, the most easterly being from the Tomalpin Woodlands near Kurri Kurri (which are under threat of "development").  We hope Ross's project will help make some inroads into the dire outlook for Regent Honeyeaters!