Featured Sites
Click on images to see a larger version
Awabakal Nature Reserve
This Nature Reserve contains one of the largest remaining coastal heath communities in the region. It is a good location for observing heathland birds such as Tawny-crowned Honeyeater, New Holland Honeyeater and Bar-shouldered Dove.  Brush Bronzewings have also been recorded there.
The reserve can be accessed from Redhead in the south (off Alison Street), or from Ocean Street Dudley in the north. The main track runs north-south through the reserve. From the Dudley entrance there are also tracks leading to Redhead Lagoon (to the west) and to Awabakal Viewpoint (to the east).
Awabakal Viewpoint offers extensive coastal views, including the possibility of seeing whales. Look out for White-bellied Sea Eagles cruising up and down the coast, and Australasian Gannets particularly in winter. Peregrine Falcons and Nankeen Kestrels often hunt along the cliff edge.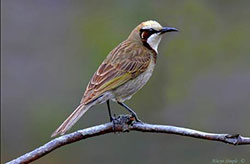 Tawny-crowned Honeyeater
Photo Alwyn Simple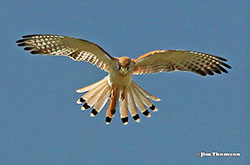 Nankeen Kestrel
Photo Jim Thomson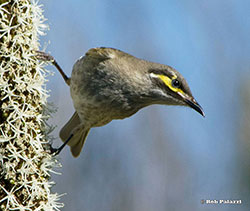 Yellow-faced Honeyeater
Photo Rob Palazzi
Glenrock State Conservation Area
This park in northeast Lake Macquarie and Newcastle comprises over 500 hectares of native vegetation, headlands and beaches, creeks and waterfalls, plus of course Glenrock Lagoon.
The northern section can be accessed via Hickson Street, off Scenic Drive, Merewether. This entrance provides good opportunities for viewing White-bellied Sea Eagles and birds of the coastal scrub and heath. In the south, the best access is from the Yuelarbah Carpark, off Burwood Road, Kahibah. Signage at the carpark provides clear directions for the picnic area on Flaggy Creek (wheelchair accessible, 600 metres) and through to Glenrock Lagoon and the beach (2km).
Powerful Owls are often seen in the vicinity of the carpark. Birds commonly seen and heard along Yuelarbah Track include Eastern Whipbirds and Golden Whistlers. Regent Bowerbirds, Bell Miners and Powerful Owls frequent the rainforest along the creek. Other birds to look out for include Rose Robins (in winter) and Lewin's Rail around Glenrock Lagoon.
For more information: https://www.nationalparks.nsw.gov.au/visit-a-park/parks/glenrock-state-conservation-area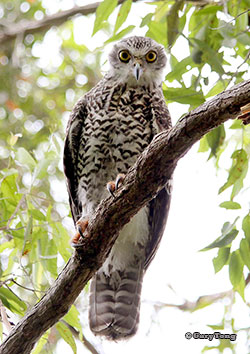 Immature Powerful Owl
Photo Gary Tong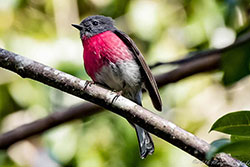 Male Rose Robin
Photo Marg Clarke
Saltwater NP
This small National Park near Wallabi Point, south of Old Bar, is fronted by a popular surfing beach and the Park itself has significant indigenous importance. In association with that it is sometimes used as a campsite (e.g. summer holidays, Easter).
Most other times, it is a quiet and wonderful place for birdwatchers to visit. It offers coastal, estuarine, rainforest and open forest habitats all within a relatively small area. And, immediately adjacent to the National Park is the Saltwater Nature Walk (it starts from the bridge over the creek) which offers additional opportunities for birdwatching.
Well over 130 species have been found at Saltwater NP in the past ten years. Regent Bowerbirds often are recorded, sometimes up to ten birds are present including 2-3 adult males, and also Satin Bowerbirds and Australasian Figbirds when there is plentiful fruit.
Various rainforest pigeons are usually present including sometimes the Wompoo Fruit-Dove. The local corvid here is the Forest Raven. Birds of prey including Brahminy Kite and Osprey frequent the estuary, and a pair of Pied Oystercatchers are often seen too.
Silver Gulls and Crested Terns are usually seen on the beach, joined in summer by some Little Terns and Common Terns. Offshore, there sometimes are shearwaters in summer (mainly Wedge-tailed) and Australasian Gannets in the cooler months. Look closely around the rocky parts of the shoreline as the Eastern Reef Egret sometimes hunts there.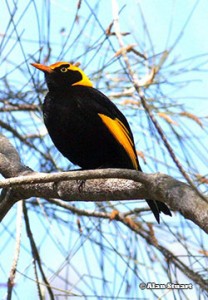 Regent Honeyeater
Photo Alan Stuart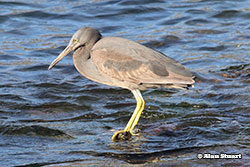 Eastern Reef Egret
Photo Alan Stuart
Blackbutt Reserve
This is a large bushland reserve centred on the Newcastle suburbs of New Lambton and Kotara. Car parking is available via entrances off Carnley Ave, Mahogany Drive, Freyberg St and Lookout Road (the gate here is not always open). A website with more details is available here.
Blackbutt Reserve features several kilometres of walking tracks through woodlands and rainforest, as well as several picnic areas – many with small lakes.
Well in excess of 100 species have been recorded in Blackbutt Reserve. Powerful Owls breed there most years although they often change their breeding site. A 1-2 hour stroll along a few of the walking tracks in Blackbutt potentially will yield 40-50 different birds including, if you're lucky, gems such as the Regent Bowerbird, Noisy Pitta, Bassian Thrush, Pacific Baza and Grey Goshawk. Brush-turkeys are common and Blackbutt is also well-known for its semi-feral Peafowl population.
 Galgabba Point
Galgabba Point is a popular fauna and flora reserve on the eastern shore of Lake Macquarie, south of Swansea. Its walking tracks can be accessed from the Old Pacific Highway, near the intersection with Marks St Swansea.
More than 120 species have been recorded here including many types of honeyeater especially when the Swamp Mahogany is flowering. When that happens, Regent Honeyeaters and Swift Parrots sometimes arrive too.
The walk to the lake passes through a variety of habitats including it offers views of waterbirds in Galgabba Creek and at a large lagoon (Margarets Bay) near the lake.
Both the Osprey and the White-bellied Sea-Eagle nest in the area and are often seen flying over. Watch for Bassian Thrush which sometimes are seen near the start of the walk.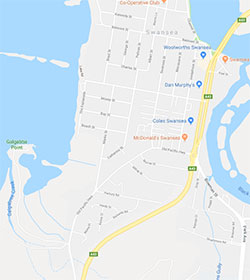 Map of Galgabba point
Click to enlarge
Hunter Wetlands Centre
See the Newcastle Wetlands birding route here for directions to this site in Shortland. It features a large variety of waterbirds and bushbirds, in a beautiful setting and with a Visitors Centre and café as well.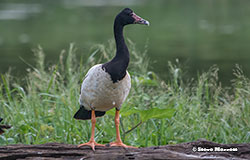 Magpie Goose
Photo Steve Merrett
Hexham Swamp
See the Hunter Wetlands birding route here for directions to this site, which is part of the Hunter Estuary IBA and comprises tidal and freshwater wetlands. Many species of waterbirds and shorebirds may be found here, depending upon tidal and rainfall influences, and more than a dozen types of raptor have been recorded.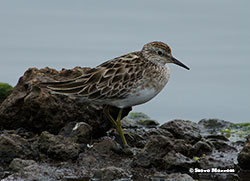 Sharp-tailed Sandpiper
Photo Steve Merrett
Walka Water Works
Walka Water Works is located just a few minutes' drive out of Maitland. See the Maitland birding route here for directions. It features a good mix of water birds and bush birds, and is one of the few sites in the Hunter Region where Great Crested Grebes may be reliably seen (and several pairs breed there each summer).
All three grebe species occur at Walka (Hoary-headed Grebes are sometimes present in rafts of 50-100 birds).  It is also a spot where vagrant Blue-billed and Freckled Ducks occasionally turn up, as well as hundreds of the more common ducks including Hardheads are often there in good numbers.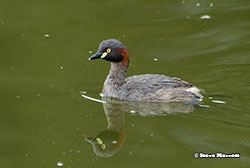 Australasian Grebe
Photo Steve Merrett